My incredibly short journey in Hong Kong was coming to an end. So, I needed to end my adventure with a bang! Something memorable. Something that would smack me right in the face and make me speechless with wonder & awe.
Before the trip, I did my research and discovered
Tim Ho Wan
. A humble restaurant located in Mongkok, opened by the former dim sim 'shifu' (master) of Four Seasons Hotel. And to my surprise, the prices were extraordinarily reasonable. In fact, the total cost of the bill was cheaper than some of my previous meals!
This was around 9.45 in the morning and the restaurant only opened at 10am! I arrived at 9, thinking I would be the earliest but I was wrong!!
The tiny & humble kitchen - where the magic happens!
Har Gow (Prawn dumplings)

When the first dish arrived, I was beyond excited. About 26 full-grown adults were fitted into the tiny place and sensing the excitement of others when their dishes arrived wasn't difficult. With each dish, cameras clicked and there were 'Oooooohs' & 'Ahhhhhhs'.

This Har Gow was the epitome of all the har gows out there. The skin was thin & translucent. Slightly chewy yet it gives no resistance when bitten. The prawns were plump, juicy & crunched with every bite. Gosh, it was superb start. Now, I'm really excited.


Teochew dumplings

The next set of dumplings arrived and smooth, silky, translucent skin blew me away again! Different flavours and textures were laughing and dancing in my mouth. There was crunch from the peanuts and diced turnips, saltiness from the minced pork and dried shrimp & fragrance from the Chinese chives. The best I've ever had.


Char Siew Buns

These Char Siew Buns were the main motivation that kept me waiting for more than an hour outside this place. Because of the high praises given by other food bloggers, my expectations were high. I was expecting the best. When sunk my teeth into them, I got more. I got better than the best.

Unlike traditional BBQ pork buns, these babies were baked to perfection. The crust were crispy and slightly flaky while the filling inside was tender, juicy and filled with flowing char siew sauce. The saltiness and sweetness were harmoniously balanced. I almost wished that this dish came last and I could allow the taste could linger in my taste-buds as long as possible.


Pan-fried Turnip Cake

These are my mum's 'must order' in every dim sum restaurant and from all the pan-fried turnip cakes she have had, she'd know which was the best. And even though I wasn't generally a big fan of this dish, this changed my mind. It was smooth, silky, soft with bits of turnip in each bite. The pan-fried bits were slightly crispy and I enjoyed the fact that it was pan-fried instead of the usual deep-fried!


Deep-fried Spring Rolls

My brother insisted on ordering this dish and I'm glad he did. If you were like me, you'd probably ask, "How good can a Spring Roll get?". I was wrong. The roll was jam packed with prawns, mushrooms, pork & other 'I-wish-I-could-identify-ingredients'. The skin was crispy and crunchy without the layer of oil you'd normally get in spring rolls. It was brilliant.


Cheong Fun with Char Siew

I'm a huge fan of Chee Cheong Fun (rice noodle rolls) and when I saw this in the menu, I had to try some. When the dish arrived, I was immediately swooned. The skin was translucent! It was so smooth and silky, I felt like I could swallow it whole! If I could, I'd have the whole thing to myself ;)
Siew Mai

And our final savoury dish arrived. It was generously stuffed with minced pork, plump prawns and sliced of mushrooms. The hand-made skin was thin and held the filling together beautifully. There were chewy parts from the fatty minced pork and there were crunchy parts form the prawns. Again, there was no way I could find a single flaw.


Osmanthus Jelly with Goji Berries
As the dessert arrived, my heart was ecstatic from all the food but was also heavy-hearted as I knew that no more dishes would be sent to our table. But the jelly was the perfect way to end this journey. It was light, sweet and we finished with a huge smile on our faces.
If you're a huge fan of dim sum, you should never give this place a miss whenever you're in Hong Kong. And those who aren't so keen on dim sums? This place would probably convert you. And if I had to, I'd queue the whole day to get into this place.
Shop 8, Taui Yuen Mansion Phase 2,
2-20 Kwong Wa Street,
Mong Kok
Lunch: Hong Kong airport
Before departing for my flight back to Kuala Lumpur, we stopped by the food court to have our lunch. Our final taste of Hong Kong before heading back!
Egg Tarts
The pastry was flaky and crisp but it was a slight disappointment. It wasn't warm and fell apart with a single bite. On the other hand, the egg custard filling was creamy and just sweet. If it was warm and freshly made, it would have probably been good!
Dace fishballs with Century Egg Congee
Every time I'm in Hong Kong airport, I'd have a bowl of this. It's not something you'd find in the menu because I've specially requested them to combine my two favourite ingredients together: dace fishballs and sliced century eggs! You can go wrong with a bowl of congee with good ingredients :)
Stir-fried noodles
Slighly salty but plain and flavourful. But with all the amazing food I've had today, it wasn't memorable!
Alright, that's all folks! That's the end of my Hong Kong trip which was filled with mouth-watering food and valuable shopping time! No question that I would return again in the near future!!
ps. Sorry for the slow updates because I've been busy shifting into my new house! Yay! :)
Do you have a favourite country/state?
Best airport food that you've ever eaten?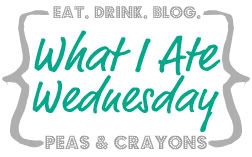 As always, head over to Peas & Crayons to check out other eats!