Char chan tengs in Hong Kong are like mamak stalls in Malaysia or pizzerias in Italy. It's iconic and easily recognizable. Hence, my second day began with a meal in a char chan teng, proceeded to another and ended in another.
Breakfast: Australia Diary Company
47 Parkes Street, Jordan
Kowloon
To avoid the long rush hour queue, we headed off early (on a weekday too!). Thankfully, we were given a table upon arrival. Since there was 3 of us, we had to share our table with someone else in the jam-packed cafe! No complains as the gentleman was very helpful with his recommendations and menu translation. (No English menus available!)
A choice of warm or cold milk
Macaroni soup with ham
A classic char chan teng dish! The warm broth sure warmed up my tummy from walking in the chilly winter morning. However, I'm not a big fan of pasta with soup but almost every table had a bowl and no complains were heard from my mum & brother!
Scrambled eggs with toast
These scrambled eggs are the reason for the queue. They're definitely worth the early wake-up call because they're by far the best scrambled eggs I've ever had! Creamy, fluffy, smooth, silky. Top it on the crispy toasted bread and let the magic explode in your mouth.
Scrambled eggs on buttered bread
This was a magical as the one above but it was texturally different. The bread was soft, chewy & generously buttered. With mouth-watering scrambled eggs like these, it doesn't really matter how you eat it. It'll still taste amazing.
Besides the scrambled eggs, the steamed egg & milk custard's often raved about. So, before we left Hong Kong, paid this place another visit. And I'm glad we did! The steamed custard was milky with a hint of 'egginess', smooth, warm and creamy. If you're rushing for time, avoid the wait for a table by ordering a take-away! But don't let the wait intimidate you because the food's worth the wait.
Lunch: Tsui Wah
77-78 Parkes Street

,

Jordan
Tsui Wah is a more commercial char chan teng with several branches in Hong Kong. The menu offered a wide variety of food and most importantly, they had an English menu! Phew, I've really got to brush up on my Chinese reading!
Assorted fish paste & balls in soup
Simple, warm & comforting. When compared to the fishballs you'd get in Malaysia, they're chewier without much springiness. But again, ideal for a chilly day!
Toasted buns with butter & sweetened condensed milk
When I was first introduced to this combination, I was slightly skeptical. Condensed milk on bread?! But boy, I'm glad I tried it anyway! The bread with toasted till the crusts were crisp and the butter beautifully melted into the thick bun. The drizzle of condensed milk gave each bite just the right amount of sweetness and it wasn't sickeningly sweet like I expected. Now, I'm a fan.
Scrambled eggs & luncheon meat sandwich
A scrambled egg dish for comparison and I learnt my lesson- never order a scrambled eggs from another place after have the best. If you want scrambled eggs, head over to Australia Diary Company. They aren't bad but the ones from my breakfast were so good that these tasted very mediocre.
If you're looking for a place that offers most of the char chan teng classics in a single menu, this is the place to go. And with several branches around the country, just head off to the nearest one! Or grab something before your flight from their airport branch!
Dinner: Mido Cafe
63, Temple Street
Yau Ma Tei
Being one of the oldest cafe around Hong Kong, I knew that I had to get to this place. The ambience and the setting was everything I hoped for! Similar to the setting in most TVB dramas, it was cozy, warm, slightly ancient & we could sit there for ages as the busy Temple street beneath us bustled along.
Milk Tea

You can't go on a char chan teng spree without drinking a cup of milk tea. Most of the breakfast/tea/lunch sets usually include a drink with a choice of milk tea or milk coffee. The black tea definitely needed a teaspoon or two of sugar unless bitter teas are your thing!
Hong Kong-style French Toast
The corners were crispy & crunchy while the insides were moist, eggy & soft. Generously drizzled with honey with a spread of butter, it rekindled my love for french toast. Breakfast, lunch, tea, dinner or supper, it wouldn't matter because I'd gladly have this for every meal!
Fried noodles with Char Siew (barbequed pork), Kailan & gravy
The noodles (yee mee) are fried till crispy and then, drenched with a thick gravy. Kinda like the cousin to the Sang Har Mee you'd get in Malaysia! Because the gravy's thicker, the noodles stay crunchy till the very last bite. Plus, we didn't give it a good mixing- the crunchy bits are the best!
Sweet & Sour Pork Spareribs

Tender, succulent & bursting with the right balance of sweetness and sourness. My only complain was the lack of gravy!
Pork Chop Baked Rice
Being one of their signature dishes, the was a 'must order'. The rice was doused with a creamy sauce and slices of tender pork chop before being baked. The rice was slightly crisp from the baking and the hot, creamy sauce couldn't be a better partner.
A fantastic way to end the second day. We headed back to the hotel with a well-fed tummy and rested our aching feet!
Do stay tune for more of my Hong Kong eats (including a dessert edition) coming up soon!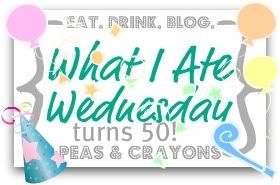 And YAY to Jenn! for hosting her 50th WIAW party!